SUSTAINABILITY NEWS RELEASE
December 6, 2022 YKK Reports 18.2% Decrease in GHG Emissions
"This is YKK 2022" integrated report and 2022 "Sustainability Journal" showcase progress toward achievement of climate neutrality by 2050
YKK Corporation has released "This is YKK 2022", the company's annual integrated report on medium-term management strategies, value creation aimed at long-term sustainable growth, and sustainability initiatives for YKK's fastening business. The theme of this year's report is "YKK's Purpose" as told through a message from the president of YKK Corporation, executive dialogs, and employee voices. "This is YKK 2022" also includes the company's progress during fiscal year 2021 under the five themes of the YKK Sustainability Vision 2050, the company's roadmap for achieving climate neutrality by 2050. Highlights are as follows:
Climate Change
・18.2% reduction in Scope1, 2 GHG emissions, 15.1% reduction in Scope 3 GHG emissions (from a FY2018 baseline)
・11 plants worldwide operating on 100% renewable energy (increase of one plant, year-on-year)
Material Resources
・Sustainable materials (such as recycled or plant-derived materials) used in zipper textiles increased to 13% (up 7 points year-on-year)
・Sustainable packaging usage increased to 3.3% (YKK JAPAN Company Kurobe Manufacturing Center completed the switchover of major interior packaging materials in July 2022)
・Landfill waste reduced by 272 tons year-on-year
・Waste resource conversion rate increased to 87% (up 3.7 points year-on-year)
Water Resources
・7.5% reduction in total water intake by all manufacturing sites (from a FY2018 baseline)
・Implemented wastewater management using voluntary control standards stricter than government regulations
Chemical Management
・Revised YKK Restricted Substances List and completed audit of all 1,204 suppliers on their compliance
・Renewed OEKO-TEX® certification for YKK® fastening products
・Developed paints with reduced toluene and xylene for use on main products
・Expanded lineup of products produced with YKK's new eco-friendly AcroPlating® technology, which eliminates 100% of cyanide, chromium, selenium, and other harmful substances. The volume of products made with this technology increased 75% for zippers and 48% for snaps and buttons (year-on-year).
Respect for People
・Implemented YKK Global Criteria of Compliance self-checks at all applicable locations
・Confirmed that suppliers comply with basic trading principles in accordance with OECD guidelines. Regular status checks and evaluations conducted via CSR questionnaire audits.
Detailed data about YKK's progress on ESG goals and financial information is disclosed in a supplemental "Data Book." "This is YKK 2022" and the "Data Book" are available on the YKK Corporation website at
https://www.ykk.com/english/corporate/csr/eco/report/index.html.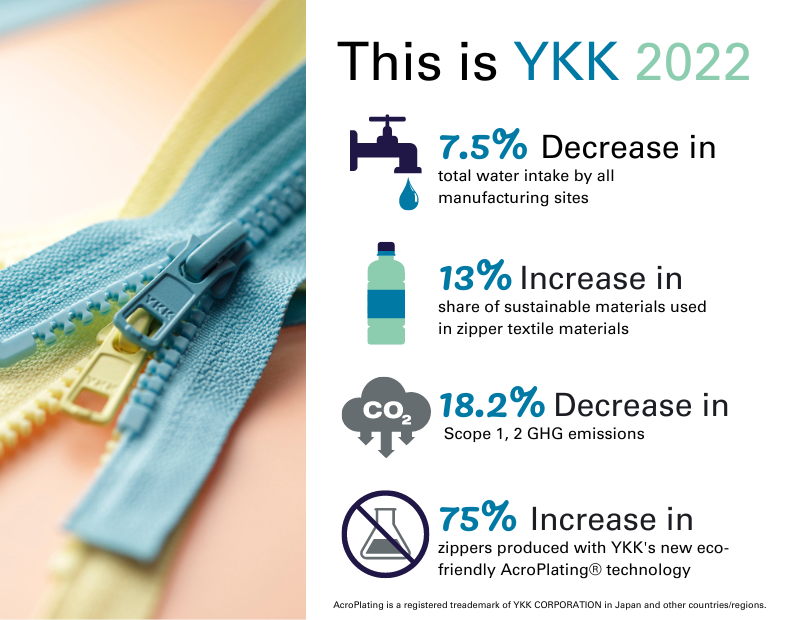 ■Second edition of YKK's Sustainability Journal released
~How YKK is putting people first to create a healthier planet while supporting local communities~
The second edition of YKK's Sustainability Journal has been published. The journal uses stories from employees to highlight YKK's sustainability journey. This edition showcases 1) solar power projects at the company's manufacturing facilities in California and Mexico; 2) the development of AcroPlating® finishing technology, which eliminates harsh chemicals from the metal plating process; 3) TouchLink® zipper, which embeds a microchip in the zipper pull, providing information on the garment's journey; and 4) the mono-plastic VISLON® zipper, a polyamide zipper that is more resistant to wear and tear. Social impact activities are also highlighted, such as 1) a tree donation project to support the areas ravished by forest fires in Turkey; 2) YKK's donation of nearly 45,000 N95 masks to Ethiopia and Sudan; and 3) the placement of collection bins for PET bottles which are then crafted into Natulon® Ocean Sourced™ zippers in Sri Lanka.
The Sustainability Journal is available on the YKK Digital Showroom at
https://ykkdigitalshowroom.com/en/b1f/sustainability_vision/sustainability_journal/