SUSTAINABILITY NEWS RELEASE
June 10, 2020 Shanghai YKK Zipper Co., Ltd. to Donate Protective Clothing to Kurobe City
We would like to extend our deepest sympathies to those who have been infected by the coronavirus disease (COVID-19), as well as their families and loved ones. We would also like to express our heartfelt respect and gratitude to the medical professionals and other workers who are fighting every day on the front lines of the pandemic.
Amidst this crisis, Shanghai YKK Zipper Co., Ltd. will donate to Kurobe City (Toyama Prefecture) 1,000 sets of protective clothing (disposable type) sourced from China.
Three of YKK's overseas companies, China's Shanghai YKK Zipper Co., Ltd., Dalian YKK Zipper Co., Ltd., and YKK Zipper (Shenzhen) Co., Ltd., were requested by local Chinese authorities to carry out special production of zippers for protective clothing, with a total of about one million zippers being supplied free of charge to a customer in China. This customer*1, seeing the growing urgency of the situation in Japan, donated free protective clothing to health care centers and hospitals in Tokyo, where YKK is headquartered.
Similarly, Toyama Prefecture, which is home to YKK manufacturing facilities, was facing serious shortages and being forced to use rain gear as protective clothing, for example. Shanghai YKK Zipper Co., Ltd. stepped in to buy 1,000 sets of protective clothing from the same customer and make its own donation.
Going forward, YKK will, as a united Group, continue to combat the spread of the coronavirus disease.
*1 Customer name: Hunchun Rabboni Garment Co. Ltd.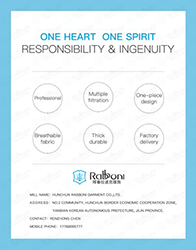 Customer information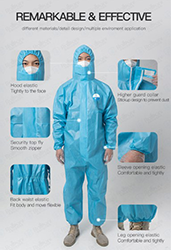 Images are from a pamphlet issued by the customer.