SUSTAINABILITY NEWS RELEASE
March 17, 2020 YKK Founder Tadao Yoshida's Sayings for Children Books Donated to Boards of Education
YKK Corporation (Headquarters: Chiyoda-ku, Tokyo; President and CEO: Hiroaki Otani, hereinafter YKK) summarized the sayings of YKK founder Tadao Yoshida (hereafter, Tadao) for children in a publication titled "Min'na ni tsutaetai - Sekai no fasunā-ō yoshida tadao no kotoba" (I Want To Tell Everyone - The Words of The World's Zipper King Tadao Yoshida) (Planned by YKK Group, production / publishing: Chihiro Planning Co., Ltd.*1). A total of 800 books were donated to the Boards of Education in Kurobe City (Toyama Prefecture), where the YKK Kurobe Office is located, and Uozu City, where Tadao was born and raised.
With the cooperation of the Uozu City Board of Education and Uozu City education department staff, this book organizes 21 of Tadao's sayings into expressions children can understand, focusing on the concept of Tadao's business philosophy of the "Cycle of Goodness."*2 The book was designed to be hints for children when they are worried or working on something.
"Tadao Yoshida, The World's Zipper King," which introduces Tadao's character, is composed of various sayings that explain what Tadao Yoshida would have done in a given situation and includes cute illustrations so children can have fun while learning about Tadao's management philosophy, "Let's expand the circle of good things."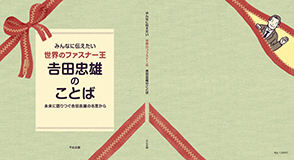 Cover (3,960KB)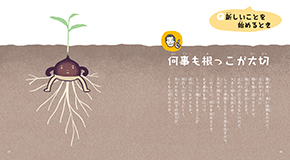 In donating this book, YKK continues its mission to tell the history of the world's zipper king, Tadao Yoshida, building on the Hometown Hero Museum inside Hoshinomori Elementary School in Uozu City*3 and the exhibition for children at YKK Center Park.*4 YKK will work with the local Boards of Education to continue providing teaching opportunities for children.
*1 Headquarters: Chiyoda-ku, Tokyo; President: Sasuke Onizuka Reference: https://www.senko-edit.com/
*2 Corporate philosophy that "no one prospers without rendering benefit to others." This expresses the basic attitude of the YKK Group. Reference: https://www.ykk.co.jp/japanese/philosophy/index.html
*3 Hoshinomori Elementary School website: http://www.hoshinomori-e.tym.ed.jp/archives/4078
*4 Past press release: https://www.ykk.co.jp/japanese/corporate/g_news/2019/20190710.html

[Attachment]:Books / YKK Center Park Overview (132KB)