SUSTAINABILITY NEWS RELEASE
December 17, 2019 Donating YKK Touch and Feel Book Updated Edition to Kurobe City
Today, YKK Corporation (Headquarters: Chiyoda-ku, Tokyo; President: Hiroaki Otani; hereafter, YKK) held a ceremony at Kurobe City Hall in Toyama Prefecture to donate approximately 500 copies of YKK's new Touch and Feel books. The cloth picture books were presented by Shinichi Asano, Vice President and head of the Kurobe Manufacturing Center to Hisayoshi Ono, mayor of Kurobe City.
YKK first produced the cloth picture books in 2014. Featuring zippers, snap and buttons, and other fasteners, the books were created to support the healthy mental and physical growth and development of children, and have been donated to facilities such as nurseries and hospitals in regions where the YKK Group operates, including Kurobe City. Recipients reported back that the children loved playing with the books, and this inspired the company to produce an updated version and donate approximately 500 new copies to Kurobe City.
The YKK Touch and Feel Book features charming animal designs that use YKK® zippers and other fasteners. Children can open and close zippers and fasten buttons to learn basic actions needed to get dressed, and as they play and interact with the book they also learn communication skills and daily rituals such as brushing teeth and greeting others. The book was developed with safety in mind and meets the Japan Toy Safety Standard (ST Standard) established by the Japan Toy Association.
The updated edition of the book, like the original 2014 edition, was created by YKK Rokko Corporation* (Kobe City, Hyogo Prefecture) and others based on input from educators at nurseries and other facilities where the first edition was used. The fabric, string, and design have all been updated, and the improvements will enable children to enjoy the book safely and for a longer period of time.
YKK will continue to pursue activities that engage local communities.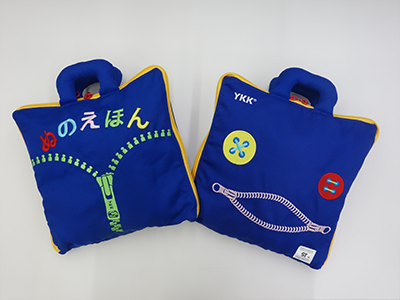 Front Cover/Back Cover (3,530KB)
*Subsidiary of YKK Group responsible for printing. YKK Rokko employs a large number of people with severe disabilities.